Today a stranger came to visit us. Well, Laura says he's not a stranger. He is her client and she says he is a good person, but I barked at him a bit anyway, just to let him know that I was keeping my eye on him. (You never can be too safe these days.)
Laura is designing a web site for her client for his new infrared thermography business. He brought his special camera with him to show us how it worked and I helped with the meeting by being the model for the photo shoot: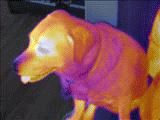 Cool, huh?
Maybe I could be a professional model. Everyone says how beautiful I am!
Here is another pic of me, resting on one of my beds: